Prescriptions and Refills Exclusively for the Patients of The Mind-Body Clinic
Sources for Prescribed Nutritional Supplements and Botanical Medicines:

For Allimed products, order here .
For ReadiSorb products, such as liposomal glutathione, call 877-303-3238. Tell them that you are a patient of the Mind-Body Clinic, and they will set up a patient account and process your order. Once your account is established, you can place your orders here . If purchasing glutathione, be sure to ask for the kind that comes in a glass bottle.

For Sigma-Tau Pharmaceuticals products, such as VSL#3, go here .

For Restorative Formulations products, go here and register as a patient using the "doctor code" you will get when you are giving your treatment plan. Once registered, you can reorder their products by just logging in.

For only Xymogen products, go here . Use the access code mindbd .
Products from Microbiome Labs can be ordered here .
For products available through the distributor Doctor's Supplement Store , order here .

Please note: Emerson Ecologics has been absorbed by Natural Partners. That means instead or ordering through Wellevate, patients must now sign up with and order supplements from Fullscript below.
Fullscript is a patient ordering platform through the distributor Natural Partners where you can access supplements, some of which are not available through those listed above. Click on the "Place Order" button to visit my personal Fullscript dispensary.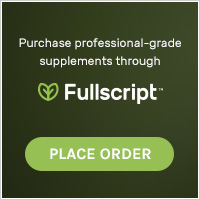 Please note: It is not recommended that patients order any of these medical-grade supplements from Amazon or any other online black market source. While you may save a few dollars, there is no guarantee that products puchased are not adulterated or counterfeit. With the exception of a very small number of companies that make their supplements available through retail outlets, the vast majority of manufacturers will not stand behind any product that is not obtained through a licensed doctor with whom the company has established an account.


Ordering Refills of Bio-Identical Hormones:

Mind-Body Clinic patients from California who are obtaining their hormone prescriptions from Koshland Pharmacy may click here for refills.